---
WHAT'S BEHIND THE "GO" PEDAL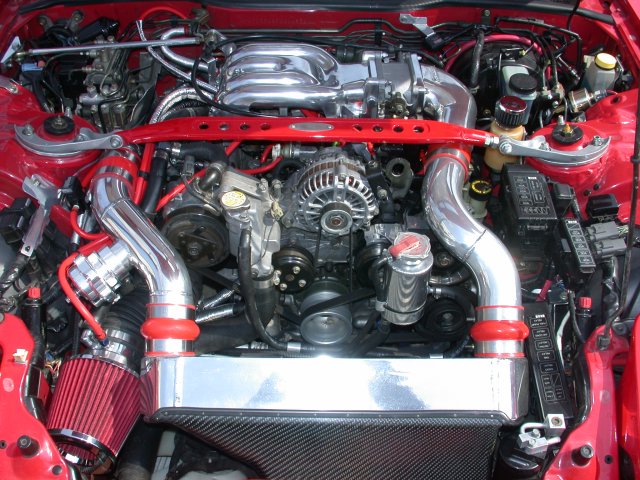 The heart and soul of any car is its engine
---
MAZDA'S ROTARY ENGINE

My initial peek at a rotary engine was in my '88 convertible. Did I have questions? You betcha! So when I looked under the hood of my current car I was able to deduce the following: two rotors, six combustion chambers, 4 spark plugs, 3 ignition coils, and two turbos operating sequentially. Oh boy this is going to be harder than I thought! And how much vacuum line is used on this car anyway? However, I really like the idea of powerful things in small packages. Like 255 hp from 1.3 liters! Compare this to the old V8 powered Ford Mustang which only got 225hp from 5.0 liters. I make this comparison because this was the "competition" at the time. Current iterations of the RX-7 sold in Japan are rated at 280 Hp. Not bad for a motor that's about the size of your computer monitor.

1.3 Liters
of
rotating madness!

To give you an idea of how technically complex this engine is GO HEREto view the vacuum hose and system operation diagrams.
---
MY ENGINE MODS
I will interject here that ALL work has been done by myself. And as proof I submit THIS!

Garrett GT35R Single Turbo with SS tubular manifold from A-Spec Tuning. Ceramic coated pipes. Installation notes


TiAl 46mm Wastegate


TiAl 50mm Blow off valve


Vacuum lines "weeded" but airpump and emissions components retained.


Crooked Willow Racing large "race" Intercooler w/custom fabricated aluminum hard piping. Installation notes


A'PEXi Power FC with FC Commander.


GReddy Profec B Spec II boost controller.


TechEdge Wideband O2 (Lambda) Sensor and Display. Installation notes.


1300cc Secondary fuel injectors. Installation notes.


Denso high flow fuel pump. Install info here


Crooked Willow Racing Dual Oil CoolersInstall info here


HKS Twin Power ignition amplifier


Taylor Vertex 8mm silicon ignition wires


Shane Racing Main Underdrive Pulley. Horror stories with installation (Click here to see what can happen if it's not done properly. Be warned it ain't pretty) of the Unorthodox underdrive pulley convinced me that to avoid any possible headaches the simpler bolt-on pulley would be the way to go. There is, however, the very nice 4 piece set sold by Unorthodox for $399.00.


Aluminum underdrive water pump and alternator pulleys (details here)


SR Motorsports 9.5 lb Aluminum Lightweight Flywheel. (Installation notes)


ACT Heavy Duty Street/Strip Clutch. (Installation notes)


Braided SS clutch line. (Installation note)


Optima Battery - relocated to the passenger side rear storage bin


ATR 3" SS Midpipe with high-flow catalytic converter


PFS 3" SS Cat Back Exhaust


GReddy elbow (polished)


Relocated Air Intake Temperature Sensor (Installation notes)


Silicone Intercooler hose connectors w/upgraded Breeze T-Bar clamps


Mazda Competition Race Radiator with custom made air ducting


OBX Red Silicone radiator hoses (details here)


Pettit Coolant/Air Separation Tank (custom mounted and polished)


JAZ Oil Catch Can


Custom fabricated oil pan baffle plate.


Triple-R polished alloy engine brace


Complete vacuum line replacement w/Red Silicon Hose (Glued and Wire tied) Click Here for more info & pics.


Lowered AC condenser


Redline Oil in transmission (MT-90) and Differential (75W90)


Redline Water Wetter in coolant w/distilled water 60/40mix


Polished Manifold and Intake Piping.


Custom fabricated polished alloy wiring and sensor brackets (to replace OE steel brackets).


Oil cooler fender liner vents and relocated washer fluid reservior

---
| Well my car *USED* to be like a rolling advertisement for Peter Farrell Supercars but the times have changed. The shortcomings of the PFS system became more and more apparent the more time I spent on the track pushing the power limits of the car. This in the addition to the fact that PFS is turning his attention to the Lexus line of automobiles makes my decision to move away from the PFS products perhaps a wise choice. At the time (c.1996) I was looking for performance upgrades I decided that PFS made the best overall package for the level of performance I was seeking. Granted it wasn't the largest intercooler but its fit and finish was head and shoulders above the rest. Today I think the M2 and CWR setups are the next generation of performance packages that equal if not exceed the quality of the PFS components and offer a step up in the level of performance. Of particular note, of not only the PFS package, but the SR Motorsports and M2 packages as well, is that these "types" of cold air intake takes air from the nose of the car and not the engine bay. Most of the competitors open filter intake systems do are simply open filters drawing warm/hot underhood air. Cooler intake air means better power and increased reliability. | The Original Setup - 306RWHP @12psi |
| --- | --- |
---
THE FIRST STEP: A'PEXi POWER FC


In the beginning I chose the PFS PMS due to its user programmability and because it covered all the adjustable parameters - fuel, boost, and timing in one package. The programmability proved it's worth as dyno tuning yielded an additional 10RWHP. The others, that are drop in replacement chips, although cheaper in the short term, require upgrading anytime a modification is made to the powertrain. Not something I would wish to do as my modification path has been gradual, requiring frequent adjustment to the computer. However as with all good things there are downsides. From what I understand the EFI PMS is a variant of an ECU developed in it's early days for the Ford Mustang 5.0. EFI and PFS adapted this piggyback ECU for use in the RX-7. I have tried both the purple box and the Pink generation box and found them to work as advertised (see dyno results below) with one exception, a problem with the Pink box *in my car* at 6k rpm. So I decided to switch to the standalone ECU replacement, vs the EFI piggyback, and try the Power FC. I have no regrets over the switch.



Me with Peter Farrell @ Summit Point in the early days - 1998
---
THE DYNO RESULTS:


So what did my original setup with the PFS IC and intake, PFS PMS ECU, and running the stock twin turbos on an unported motor get me you ask? Only one way to find out....some REAL dyno tuning time! The car did pretty well apart from the glitches with the PMS which were never resolved >:-( Dyno testing was done using a DynoJet 1 chassis dynomometer with tuning using a wide band lambda sensor. Ambient temperature was about 45-50 degrees F and humidity in the 50% range by my own estimate. My car was tuned fairly conservatively in the interest of longevity on the track. There was room to run it leaner and which would have yielded more power but a single tank of bad gas would mean disaster so I decided to keep it safe.
Results below are using the EFI PMS "Pink 9" Piggyback ECU. Power FC dyno tuning with the new CWR IC and CAI to come . [*bracketed results taken using a G-Tech on previous occasions: first set of results without DP, Crane or pulley and second set with DP and pulley, the Crane Hi6 removed]


276 RWHP *CORRECTED* (325 HP at the flywheel), with the PMS computer controlling boost at 10psi primary/11psi secondary (essentially stock levels). This is about 70Hp over stock if you consider 15% drivetrain loss. [265 RWHP/312FWHP, 279 RWHP/328 FWHP]


305.6 RWHP *CORRECTED* (360 HP at the flywheel) with boost set at 12psi primary/13psi secondary. Flywheel Hp is again considering 15% drivetrain loss. [280 RWHP/330 FWHP, 296 RWHP/349 FWHP]

Halleluya! At last the 300 HP threshold has been surpassed! I think that the car is capable of even more as the 305.6 RWHP number was attained after 9 back to back pulls and the whole car was pretty well heat soaked. Also at speed the ram air effect in the PFS intake should be good for another 10 or so RWHP.
Notably, the numbers I generated earlier(bracketed above) with the G-Tech Pro G-Tech Pro were pretty accurate and definitely good enough to give you an idea of where you stand.
However, even though these numbers are good I believe I am getting very close to the limits of what is attainable with the stock fuel system and with stock turbos and an unported motor. Injector duty cycles are hovering around 85%. About the limits of reliable power. I'm too chicken to run at 14psi for the above reason. But I estimate at 14 Psi this engine should be good for over 320RWHP on a stock motor and turbos if more fuel is added. Hmmmm let me add some items to my list of things to do :-)
FWIW, these numbers are fairly consistent with the PFS claims of 300Hp, 330HP, and 360Hp at the flywheel at 10psi, 12psi, and 14 psi respectively.


I should also like to mention that I have no internal engine modifications, like porting or such, and am running on the stock turbos operating sequentially as originally designed, and with all factory smog equipment in place and functional.


Removal of the Crane "Fireball" Hi6 Ignition Amplifier w/coil
Since testing I have removed the Crane Ignition amplifier and coil in an effort to eliminate the 6000rpm hesitation I have been experiencing at the track and recently on the dyno. In the interest of simplicity and with words of wisdom from those more experienced than I who say the stock ignition system is perfectly adequate I decided to pull the Crane ignition mods. Additionally, at the same time I replaced the OE coil wiring harness (Go here for a picture) that not only is prone to degradation of the insulation due to engine heat, leading to high resistance and subsequent signal failure to the coil, but that it also eliminated the splice where the Crane ignition box was wired into the OE harness. I have run the car at the track and found that without the box there was no (subjective) degradation of power.
---
TRIPLE-R MAIN PAGE
GENERAL OVERVIEW | THE HEART OF THE BEAST | STOPPING AND TURNING | THE COMFORT ZONE
---
7-UP CLUB MAIN
OUR "LOCAL7" COMMUNITY | THE WORLD OF THE RX-7
---
This page last updated June 10, 2006
rotorphiles have visited this page since October 18, 2001
---
If you would like to contact me and converse about my experiences with my 7:

please feel free to send an e-mail to crispyrx7@yahoo.com
---
Disclaimer: All images contained on this page are the sole property of C. Regan or were collected from the public domain, unless otherwise indicated. If any image contained on this page is considered private property. Please contact Christopher Regan.Webcounter supplied courtesy of

---
Information below this line has not been contributed by the owner of this site