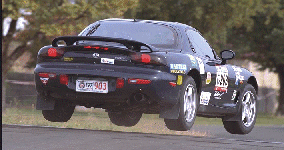 WELCOMES YOU!
Hopefully we can provide an entertaining look at owning and driving one of Mazda's greatest achievements.
The FD3S RX-7
At our site you will find information of our members, technical highlights of the wild and crazy things we do to and with our cars, and our exploits on the track
So.... Are you ready to join our obsession for speed?
Use the menu to the left to navigate the main pages or
use the drop down menu to find a specific area that interests you