---
Peter Farrell Supercars Exhaust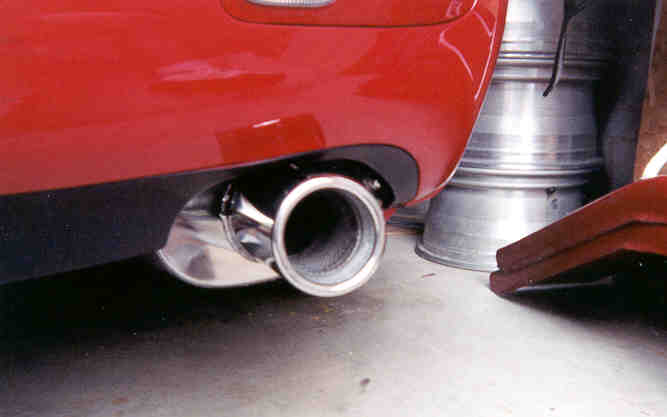 ---
The first thing any "riceboy" is going to do to his car, your's truly included, is add an aftermarket exhaust. Here again, I jump on the PFS bandwagon but with good reason. It is a full 3" stainless steel mandrel bent pipe. It is a one piece pipe unlike the Borla I had previously installed. It is one of the lightest designs currently mass produced, has a straight though muffler section and it looks great. Highly polished rolled tip and muffler but with only a 4" tip its not too obnoxious. Fitment was a no brainer and took about an hour from drive in to drive out.
---
GENERAL OVERVIEW | THE HEART OF THE BEAST | STOPPING AND TURNING | THE COMFORT ZONE
---
EXPERIENCES AND LESSONS FROM MY GARAGE | MY LOCAL 7 COMMUNITY | THE WORLD OF THE RX-7
---
MAIN PAGE
---
Disclaimer: All images contained on this page are the sole property of C. Regan or were collected from the public domain, unless otherwise indicated. If any image contained on this page is considered private property please contact Christopher Regan.